5-Star Hotel, who is this?! — that's my motto when it comes to hosting family and friends!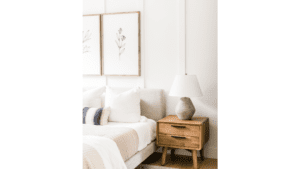 How do I do it?
Here's how:
My list of guest room necessities that I've fine-tuned (and, maybe? perfected) over the years.
Now I'm sharing it with YOU!
✓ Visible WIFI password
✓ Phone charger
✓ Luggage rack
✓ Q-tips
✓ Makeup wipes
✓ Lotion
✓ Body wash
✓ Full-length mirror
✓ Wastebasket
✓ Tissues
✓ Extra towels
✓ Extra hangers
✓ Clothes steamer
✓ Sound machine
✓ Jewelry dish
✓ Wall or door hooks
✓ TV remote
✓ Extra blankets
Plus, you can take it to the next level:
Include a handwritten welcome note on the bedside table. Share a few places to grab a coffee, breakfast, groceries and 1-2 local shops you love!
They'll feel like you've really gone above and beyond as a host!
The only downside? With this list, your guests may never want to leave!!
Happy hosting — and, of course, bookmark this for later, or share it with a friend who wants to up their guest room game!