It's one of my favorite times of the year…
Summer Backyard BBQ Season!
Ready to host the MOST epic BBQ on the cul-de-sac?!
Use this checklist to ensure you have all the essential tools and equipment for a sizzling experience.
Stainless Steel Tongs and Spatula Set: Get a grip on your grilling with a durable and reliable stainless steel tongs and spatula set. These essential tools will help you flip, turn, and serve your deliciously grilled masterpieces with precision and ease (say byeee to burned fingers)
Grilling Prep & Carry System: Simplify your grilling process with a convenient grilling prep & carry system. This all-in-one solution allows you to organize and transport your marinades, seasonings, utensils, and more. No more frantic searches for misplaced essentials – everything you need is at your fingertips.
Basting Bottle: Take your BBQ flavors to the next level with a handy basting bottle. Fill it up with your favorite marinades, sauces, or secret recipes, and apply them generously to your meats as they sizzle on the grill.
Instant-read Thermometer: The MVP of the show! No more guessing games or overcooked meats. This instant-read thermometer will quickly and accurately gauge the internal temperature of your grilled dishes, ensuring every guest is impressed.
Cooler Cart: What is a backyard BBQ without a cooler cart?! Fill it with ice, stash your drinks, and effortlessly roll it around the yard. No more interruptions to fetch cold beverages – your guests can help themselves and enjoy all the summer vibes.
Insulated cup: Last but certainly not least is one of my favorite summer staples! Grab an insulated cup like this one from Brumate and you will have everyone from the party asking where they can get one! With 70,000+ 5-star reviews on Amazon, this is a backyard BBQ MUST!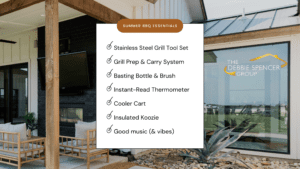 What are you bringing to your backyard summer party? Let me know in the comments!